Overview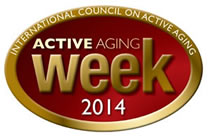 Active Aging Week:
Let the adventure begin
September 21-27, 2014
Led by the International Council on Active Aging® (ICAA), Active Aging Week is an annual health promotion event held each year during the last week of September. The weeklong observance celebrates adults ages 50 and older as fully participating members of society and promotes the benefits of leading an active, healthier lifestyle. It also highlights the ability of older adults to live well, regardless of age or health conditions.
Local host organizations throughout North America offer activities and events that are free to low cost, educational, and presented in a safe, fun and friendly atmosphere. Events are held in parks, malls, YMCAs and JCCs, health clubs, seniors centers, apartments, senior living communities, and various other sites. Some mainstay activities include group walks, health fairs, dances, fitness classes, concerts and field trips, with myriad variations and fresh programming options added each year. Veteran hosts challenge themselves to attract first-time participants and inspire returning ones with their offerings.
Flexibility makes the annual observance unique. Active Aging Week hosts decide how they will participate by choosing how many events to offer and what type of activities to provide, from a single group walk, to a multifaceted schedule each day.
Specialty days offer FREE resources
A new addition to Active Aging Week are the specialty days that you can use to focus the activities for that day. Plus, you can partner with Active Aging Week sponsoring organizations that are sharing free information and invitations to join their events. It's all part of the mission of life quality for older adults. Within the Active Aging Week theme of "Let the adventure begin," choose a specialty day, a partner, and build the program.
Watch ICAA webinar: Expand your Active Aging Week program with free partnerships

Following are the specialty days: