A invitation from ICAA's CEO, Colin Milner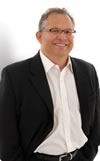 One of the most significant global occurrences of our generation is population aging. Never before have so many people lived for so long. This single fact, longer life, is the root cause of a tidal wave of change that is impacting economies, businesses, governments, communities, families and individuals.
The mission of the International Council on Active Aging® is to change the way society perceives and responds to population aging. Our philosophy for leading this change is active aging, the concept that aging adults can—and should—participate in life as fully as possible, regardless of socioeconomic status or health conditions. Our platform is wellness, an umbrella term for the environment and programs that support the active-aging lifestyle. Active aging celebrates and encourages individuals to become active in the emotional, intellectual, physical, social, spiritual and vocational dimensions of their lives.
ICAA unites professionals from many industries and continents, all of whom are dedicated to improving quality of life for older adults. Company by company, individual by individual, our community is spreading the message of active aging. By polishing our missions, sharing our knowledge and improving our skills, we raise the industry as a whole.
When you join the association, I encourage you to take advantage of all the benefits available to you. You will save yourself time, gain new perspectives and access a lot of great ideas. We have added many new benefits, developed from members' input, to insure you get the most value from your investment. Use these to augment your skills, discover your organization's competitive niche and, most importantly, provide the environment for active aging.
As a member of ICAA, you will be part of a movement that is Changing the Way We Age®. I look forward to your involvement.
Colin Milner
CEO
International Council on Active Aging